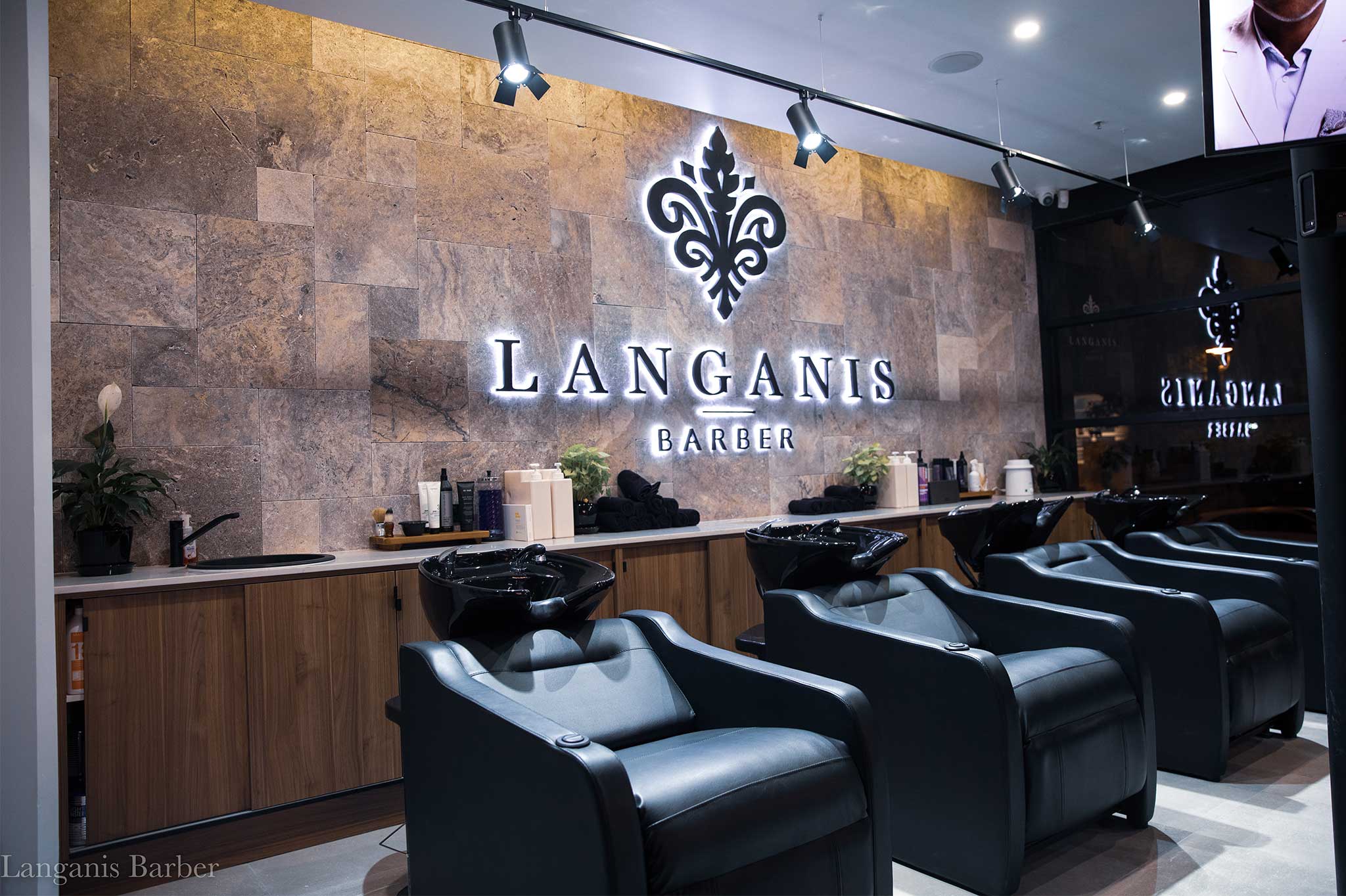 FEATURED: BARBERSHOP OF THE MONTH- FEB 2020 – THE BARBER MAGAZINE
Michael Langanis is the owner and director of Langanis barbers, Australia. With a genuine commitment to give an urban high-fashion barbering experience, Michael is continuously reaching his goals.
The pounding echo of urban music alongside exceptional entertainment invites you to stay and enjoy your time with Langanis barbers. So, grab a coffee and see the magic begin.
"So much hard work went into the style and design of our latest location. We wanted an elegant and inclusive space that wasn't boring, and we opted for neutral colours to suit modern-day design and used natural materials to make the area feel warm and relaxing.
"Our Tenerife barbershop highlights elevated flooring, rock barber stations and French pattern travertine stones to bring elements of sophistication and individuality to our space. We've tied in an array of unique materials that seamlessly complement each other, such as our travertine wall tiles, textured stone mirrors and glossed concrete flooring." Says Michael.
With floor to ceiling glass windows that connect the indoor and outdoor, they've designed an open space that is entirely inclusive for customers and staff. The split-level allows customers to watch their surroundings from the basins, as well as providing accessible communication between barbers while they wash and style hair.
"Customers value the experience, not just the final result, so we've prioritised comfort by investing in high-end barber chairs with footrests, and a luxurious waiting space. Our waiting area consists of distinctive European lounges, blackout curtains, and an antique wall-sized mirror, which combines the gracefulness of antique features with modernity.
"As our space lives and breathes natural colours and materials, we had some room to play around and add some colour. So, we implemented interchangeable down lighting to be able to change the mood of the barbershop effectively.
"The response from our customers has been remarkable so far! Praise and compliments regarding the design and décor of our Tenerife barbershop have been widespread, especially in our opening weeks. We believe the reason it resonates with our clientele is that it's so different from traditional barbershops. We also cater for womens' hair, which dramatically extends our demographic of people walking in the door and experiencing Langanis Barber."
Follow @langanisbarber
Read the full article here: http://thebarbermagazine.co.uk/barbershop-of-the-month-feb-2020/